Impressed by the uniqueness of the Pascua Florida, the artist decided that his work should remain in the municipality of Guía de Isora and generously donated it to the Town Hall, where it is exhibited in the foyer of the Municipal Auditorium.
Later, in 2014, Pepe Dámaso created a new work on his own initiative, this time a pictorial one, inspired by Easter in Isoras, which he also donated to the Town Hall. In this four-part polyptych, the artist depicted human figures in the form of angels hidden behind flowers, representing the different seasons of the year. Spring is represented by the Teide's flowering tajinastes, summer by the aloe flower, autumn by the sterlicia or bird of paradise and winter by the thorn of Christ.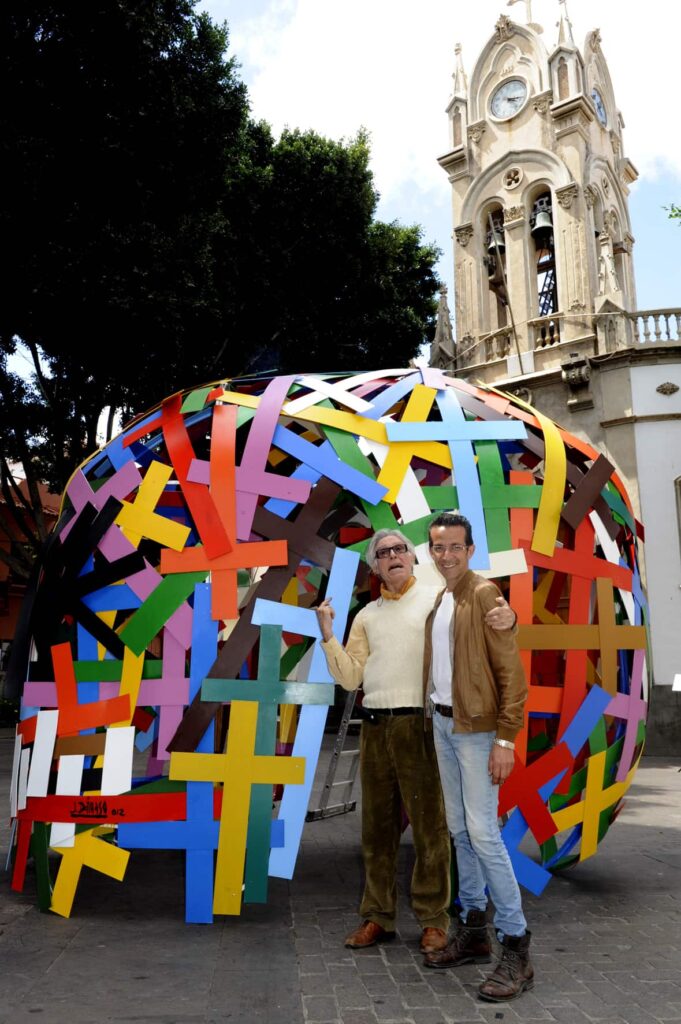 Pepe Dámaso
Pepe Dámaso was born in Agaete (Gran Canaria) on 9 December 1933. He has been a member of the Royal Academy of Fine Arts of the Canary Islands since 2010. He studied drawing and painting in Madrid and Seville. Dámaso is a multifaceted artist and is also interested in film and sculpture, and even industrial design work. Among the most relevant distinctions he has received are the Premio Canarias de Bellas Artes (1996), Hijo Adoptivo de Las Palmas de Gran Canaria, Premio "Magister" de la Real Academia Canaria de Bellas Artes (2009) and Doctor Honoris Causa de la Universidad de Las Palmas de Gran Canaria (2013).
This valuable donation is based on a small-scale original work that the renowned artist created in the 1960s for his own personal mausoleum. The "Inhabitable Death" is a large-scale sculpture representing a skull made up of a multitude of crosses painted in different and energetic colours. In addition, the senior citizens of the municipality collaborated in the elaboration of this sculpture, being the architects of the lively colours of the crosses.